Galicia northern Spain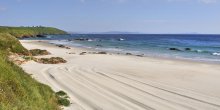 Galicia offers a friendly atmosphere and oldie worldly charm which is unique and endearing. It is known in Spain as the "land of the 1000 rivers", they wind there way all over the region from the mountainous inland to the coast, where they form the characteristical "Rias". The capital city is Santiago de Compostela and is made up of four urban provinces, A Coruna, Lugo, Ourense and Pontevedra, and also the cities of Vigo and Ferrol. The population, quite scattered, is around three million inhabitants, residing mostly along the coastal regions it has around 100 inhabitants per square kilometre, which is much higher than the Spanish average.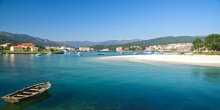 Galicia has everything to offer to travellers and holiday makers, it is clean, green, offers a pleasant climate throughout spring and summer, a spectacular coastline, picturesque villages and small quaint harbours. Lush meadows and orchards are abound in this idyllic part of Spain. Driving around the country side and coastline is a real pleasure with fantastic views from almost every corner of the province.
Top things to do and see in Galicia
» Enjoy delicious fresh fish sea food with over 90 varieties of fish to choose from
» Participate in the St James Walk, the most celebrated pilgrimage in Europe
» Visit the historic city of Santiago de Compostela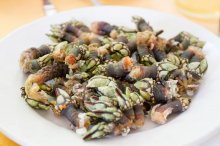 » Expolore ancient Celtic settlements at Barona, Viladonga and Santa Tegra
Great Beaches
The coastal areas offer great contrasts with most of Spain's best beaches to be found in this area. There are a staggering 105 blue flag beaches in Galicia almost the highest number anywhere in mainland Spain and the Islands. These outstanding beaches regularly win awards for there sheer natural beauty, cleanliness, sea and sand quality. There are too many of them to list here although some of the exceptional ones would be the Playa del Estorde, Playa de Longesteira with its smooth white sands and the famous San Francisco Beach located at the mouth of the River Muros and Noi.
You might also like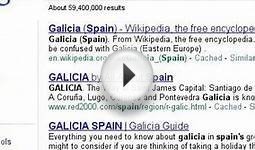 Galicia Spain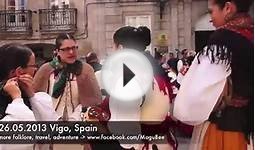 Galician Folk music in Vigo, northern Spain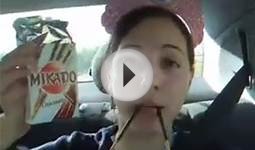 Northern Portugal and Galicia, Spain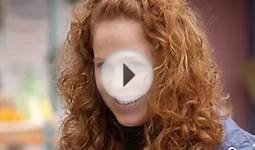 Faces of the Galicians (Northern Spain) Gallegos
1923 Wood Engraved Map Spain Madrid Segovia Braganua Galicia George Borrow Vado - Original Wood Engraved Map


Entertainment Memorabilia (Authenticated)




Product Type: Original Wood Engraved Map; Color
Grade: Very Fine
Dimensions: Approximately 7.5 x 10.5 inches; 19 x 27 cm
Authentication: Serial-Numbered Certificate of Authenticity w/ Full Provenance
Packaged in custom sleeve w/ archival black board (great for display, gift-giving, and preservation)
HUNGARY: Eastern Hungary and Galicia, 1907 antique map


Office Product (Shipping by airmail from UK: items normally reach US addresses within a few days but can take longer)




Title: Eastern Hungary and Galicia
Condition: Good; suitable for framing. Please check the scan for any blemishes prior to making your purchase.
Size: 36.0 x 23.0cm, 14 x 9 inches (Large)
Type & Age: Year printed 1907. Colour antique map. Scale 1:2,800,
Verso: There are images and/or text printed on the reverse side of the picture. In some cases this may be visible on the picture itself (please check the scan prior...
Map Poster - Nova Hispania Nova Galicia Gvatimala. - 24"x19.5"


Home (VintPrint)




Measures 24 inches x 19.5 inches.
Includes a 0.5 inch white border on all sides to allow for matting and framing.
Printed on high quality glossy paper.
All our posters are reproductions. We do not sell originals.
Source:Library of Congress, Geography and Map Division

Garmin VEU486S - Galicia & Asturias - SD Card


PC Accessory (Garmin)




Card Format = SD
Port Plans = Yes
Aerial Photos = Yes
100% satisfaction

iPhone 6 Case NueuaGalicla Map Of NueuaGalicla In 1540 Shortly After The Uprising Of Natives New Spain with Full Wrap


Wireless (Ltinas)




Made by high quality plastic provides maximum protection for you iPhone 6
Beautiful case with Light weight and Convenient
Image printed in full color on white case
No tools needed to use and install your iPhone 6 on it
Custom designed protection for your iPhone 6
Q&A
What is genealogy about AUSTRIA
When using this website please use common sense. The information provided on this site is intended for your general knowledge only and is not a substitute for professional advice. The information on this website is not intended to diagnose, treat, cure or prevent any disease. Never disregard medical advice or delay in seeking it because of something you have read on the Helpfulbox site.